Oh dear. How long have I been writing this blog, 2 months? And already I'm getting lazy... very lazy indeed. No longer can I be bothered to write everything up properly at great length, I've resorted to a round-up. A "highlights". A clip show.
Or, to spin it another way, perhaps I've learned the art of self editing. Perhaps I've learned that writing should be punchy and concise to grab the reader's attention. (Seems unlikely, doesn't it?) After all, isn't there a reason why newspaper gig reviews are only 100 words long or so?
To tell you the truth, I'm running low on time to get things written up, there's a major gig event in the prog community tomorrow evening which is going to require the mother, father and sister-in-law of all blogs to do justice, and I just want to clear the decks before that happens. That, and I can't plug the charger into my laptop since it's started causing black smoke to emit from the socket, and I have but 55 minutes of battery to go before my new one arrives on Tuesday.
Yep, this is what's going to happen to me in the name of blogging,
if I'm not careful.
So let's get cracking. (Bloody hell, I've already wasted several hundred words writing about how I'm not going to write very much.)
2nd December 2011: The Watch & John Hackett / Nick Magnus - The Lexington, London
Another last minute decision, I'm tempted along to this gig by my friends at the Fishtank who promise an evening of singalong prog, and I'm not disappointed.
A heavy afternoon and evening of work threatens to stop me from coming at all, but a sudden inspired piece of delegation to someone in a different timezone luckily has me heading off up to London to join in the fun partway through the evening's first act -

John Hackett

(brother of Steve) and

Nick Magnus

(ex Hackett band keyboard player). Not sure of what they play before I get there but as I arrive they're playing what sounds a little like lift muzak, with John on flute, Nick on keys, and an 80s drum machine on taped percussion.
John and Nick are joined by The Watch guitarist Giorgio Gabriel
Not the most inspiring start, but then there are a couple of beautiful tracks from one of Nick's albums, and then John, looking ever so much like his brother, announces that they will play a couple of Steve's songs. This might sound a little bit desperate but since both John and Nick were a big part of Steve's band in the 70s and 80s and made these tracks their own on stage, they've every right to give them an airing tonight.

And we're very glad they do - starting with the wonderful 'Jacuzzi', they then lead into the instrumental section of 'Overnight Sleeper', and finish up with the absolutely sublime 'Hands of the Priestess' from Steve's 'Voyage of the Acolyte' album, 3 tracks which I don't think Steve himself has played since those days. A wonderful start to the evening.
And then it's time for the main event. Most bands start out playing covers and then start doing their own material, but Italian band

The Watch

seem to have it the wrong way round, inasmuch as they first came to my attention as a new prog band with their own material, back in the early 2000's. I wasn't that impressed with the album I heard at the time but they subsequently appeared on my radar again some years later with their Genesis tribute shows, which seem to be their main line of work these days. Tonight is the last night of their 'Green Show' tour (dunno, don't ask me), which is a set based largely around Genesis' 'Selling England by the Pound' album from 1973.
I have had some of the best nights of my gigging career at Genesis tribute gigs, and some of the most soul-destroying "what is wrong with my life?" ones as well, so it's always touch and go, but this one falls somewhere inbetween. One great thing that the band have going for them is that they don't pretend to be Genesis - which is excellent news, and frankly none of them look anything like their counterparts anyway so it'd be a trifle embarrassing.
The exception is singer and flautist Simone Rosetti, who sounds every inch like Peter Gabriel in the 70's and even has his bizarre hip-twisting movements and stilted tambourine banging utterly perfected. You'd swear it was Gabriel. Until you looked upwards and saw the lovechild of Marty Feldman and Gene Wilder. Let's chuck into the mix the heavy Italian accent - which gets interesting when he's singing lines like these from the London brawl commentary 'The Battle of Epping Forest' :
"There's Willy Wright and his boys,
One helluva noise, that's Billy's boys
With fully fashioned mugs, that's Little John's thugs,
The Barking slugs, super smugs."
At this point we're watching a man with an Italian accent impersonating Peter Gabriel from nearly 40 years ago impersonating a cockney. It's not something I'm quite prepared for, and unfortunately it takes me most of the gig to get past it and stop sniggering. Terrible, I know. But he hits all the right notes and does so with power, so is by any measure an excellent singer. The rest of the band are spot on, too, with all the right sounds, and the keyboard player even plays guitar when Tony Banks would have done so, which scores maximum Genesis Tribute points. 10 Squonks to The Watch.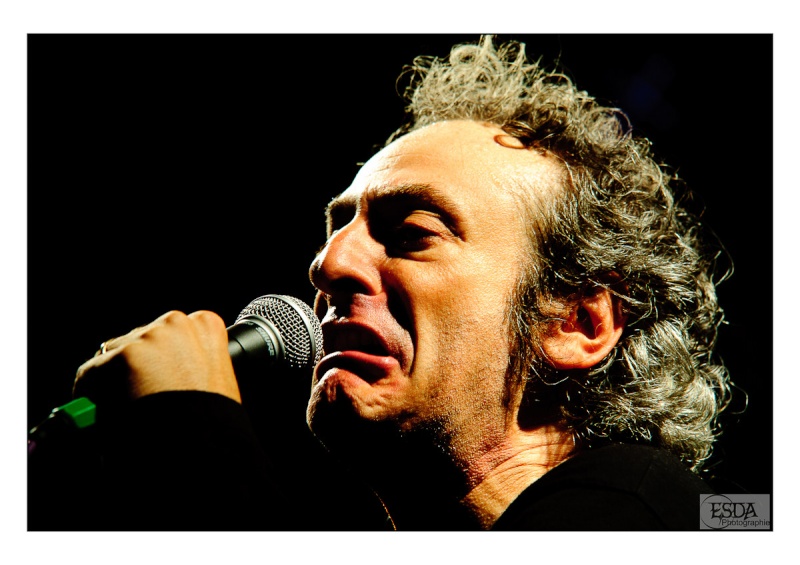 Simone Rosetti. Tambourine action not pictured.
But let's backtrack, the gig starts in very interesting fashion with some incredibly obscure and early Genesis tracks such as 'The Shepherd' and 'Let Us Now Make Love' ("Do we have to?", I ask out loud to nobody in particular, causing Tinyfish lyricist Rob Ramsay to inhale beer through his nostrils.) These two, as well as one of the band's own songs, feature John Hackett on flute, which is another nice touch. 'Let us Now Make Love' has a very rocked-up arrangement and is one of the best tracks of the night.
From here, the band move into the 'Selling England' set which is extremely well received by the faithful, (they play everything except for 'More Fool Me' and 'After the Ordeal'), and although I used 'Epping Forest' for my own sadistic humourous purposes earlier, I have to hand it to Simone, managing to spit out all those lyrics that even Gabriel struggled with on stage, and in a non-native tongue. It's actually one of the highlights of the evening for being a bit less played at these events. As well as the 'Selling England' tracks, they also play 'Musical Box', the last section of 'Supper's Ready' (cut due to the curfew) and some more of their own songs. Ah yes, their own songs. I'm sorry to say that my opinion of these hasn't really changed in that they have all of the sound and feel of vintage Genesis tracks but with none of the melody. I try, really I do, but I can't hear anything to get excited about. Sorry, guys.
For me, the fun of the evening is hanging out with some friends, watching some amazing musicians playing great music note perfectly, oh, and doing the super geeky thing of loudly singing Phil Collins's cheesy vocal flourishes from the tracks which he sang on the 'Seconds Out' live albums. Well, it has to be done.
Towards the end, they announce next year's show, which is called, wait for it... "The Yellow Show". It sounds intriguing, they plan to play some songs from the two albums released just after Peter Gabriel left the band, but in the style of the Gabriel-led band. So that'll be an Italian man impersonating Peter Gabriel from 40 years ago impersonating Phil Collins impersonating a cockney. That has to be worth a look.
6th December 2011: Conversations with Penn and Teller - 35 Years of Magic and Bullshit - Indigo2, Greenwich
Right, these last two are going to have to be super speedy - we have 30 minutes of battery left now and, honestly, I'm not exactly sure how to write about something which isn't actually a gig.
In case anyone's been living under a rock,

Penn and Teller

are American magicians/ illusionists / TV presenters chiefly famous for their no-nonsense approach to magic, their debunking of various myths and scams in their 'Penn and Teller - Bullshit' series, and their Saturday night TV show 'Penn and Teller - Fool Us'.
Penn Gillette is the tall, dark haired, ranty one on the left and Teller (he's so cool he only needs one name, like Sting and Dappy) is the short, balding, mute one on the right.
We've been told what to expect, so we know we haven't come to see a magic show as such, but rather an evening of conversation and Q&A. I'm rather wondering how this will work since Teller famously doesn't speak at all on stage or on TV, adding a rather unique dimension to his tricks. All is answered after the opening card trick (in which Penn picks out an audience member's card by stabbing it through Teller's hand), when Penn announces 'To interview us this evening, a good friend of ours, Mr. Jonathan Ross'.
Rather a nice bonus, since I do like Mr. Ross, although I later discover that the following night they're interviewed by Stephen Fry (dammit!). First question, to Teller, is he going to speak tonight? He pauses for dramatic effect... "Fuck yeah."
I know these two people could be anyone - but look, it does say 'Penn & Teller', so trust me.
So then, over the next couple of hours we're taken through their history (Penn met Teller when Teller was a high school Latin teacher), their relationship (we learn that they're not really friends and hardly socialise at all), what Penn hates more than anything (TV Psychics / Mediums provoke the best rant of the evening and a huge round of applause), and about their showbiz friends (Derren Brown, Matt and Trey of South Park amongst others - this is all I need to know about what kind of guys they are.)
After the very enlightening chat which I can heartily recommend if you're a fan, there's time for the fans to ask questions which range from the uber-geeky to the pointlessly vague, but interspersed throughout the night are about 5 magic tricks, all of which are very impressive although mostly seen already on the 'Fool Us' show. But then, when do I ever complain about a band playing a song I've heard them play before? Their 'tricks' (if you can call them that) are so expertly crafted and played out on stage with their trademark chemistry that they're worth watching again and again.
It all seems to be over very quickly, and Karin and I are off out into the main dome on our way home, but somehow the two guys are already out of the venue and standing outside doing some street magic for the passers by.
The cleverest trick of all though? The IndigO2's organisation causing us all to turn up 90 minutes before show time for a seated gig with allocated seats, and having us all queue up for 45 minutes without opening the doors. Truly impressive. When's the last time that happened at the theatre?
Only the O2 could get people to queue for 45 minutes for their allocated seats.
10th December 2011: Renaissance Singers of London: A Boy is Born - St Giles-in-the-Fields Church, London
And so to my first Christmassy event of the year, and one of a semi-regular series of concerts which Karin and I like to attend to support my sister Helen who's a semi-professional alto soloist and chorister. Helen's in various choirs,including the amazing

Serlo Consort

and this, the

Renaissance Singers of London

- a group which (so the programme tells me) was "founded in 1944 to spearhead the revival of interest in performing Renaissance sacred polyphony at the dawn of the early music movement".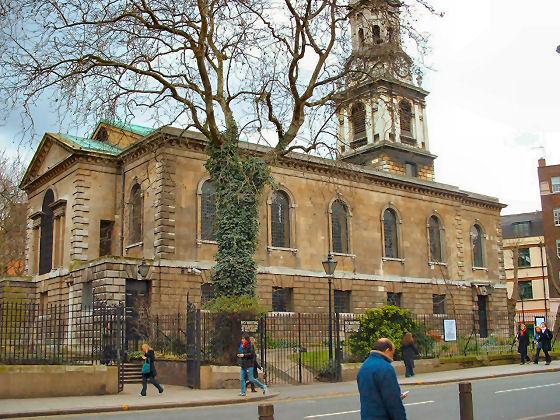 St Giles in the Fields, pictured, well possibly not yesterday, look at the fashions on display.
In the interests of disclosure, I have to say I'm not the world's biggest fan of very early music (not enough guitar solos for my liking), but it's almost irrelevant when you're sitting in a beautiful old church in candlelight, listening to amazing unaccompanied voices floating around the vaulted ceiling. And there's much to enjoy - with pieces from Byrd, Gibbons, Taverner (tonight's oldest composer, born in 1490) and Thomas Tallis amongst others, there are plenty of opportunities to enjoy the massed voices of the whole choir, then just the ladies (and men with tight trousers), and then the full choir with soloists - including the aforementioned Alto who, biased though I may be, is the star of that particular piece.
There's even an organ solo piece, performed with enthusiasm by guest conductor Elizabeth Burgess. Nearly a guitar solo, but not quite. For me, though, there are two highlights, and in typical Philistine fashion, they're a) the one I know and b) the most modern piece on the programme. "The one I know" is the evening's only "popular" Christmas Carol, the Coventry Carol, which is possibly the oldest tune of the evening, but is in a very interesting modern arrangement by 20th Century composer Kenneth Leighton.
And the most modern piece is a song entitled 'Adam Lay Ybounden', by composer Matthew Martin who's just in his mid 30s - that's the same age as me! The mind boggles. Some very interesting harmonies and counterpoint provide a nice contrast to the largely more simple tunes from Renaissance times that make up the rest of the programme.
All in all, a most enjoyable evening, and there are even
mince pies and
mulled wine in the interval - an absolute godsend since the church is so freezing that Helen has to be rushed to the nearest Starbucks between rehearsal and concert to thaw out her hands and vocal chords on a bucket of peppermint tea.
Epilogue
So, there we have it, three very different evenings to add to the year's gig tally. There are just two more in the calendar between now and New Year and then I think it'll be time for some end of year round-ups and 'Top 10' lists. I'll never be a proper blogger without lists.