I'm on my way to the station for this, my second gig of the year, when my trousers suddenly explode. I'd like to say it's with the knowledge of the sheer awesomeness awaiting me this evening, but it's probably more to do with the week I've just spent in the USA, the land of cheese and frying. And fried cheese.
I spend half the walk trying to hold together the offending broken belt, which is now swinging by my knees, before attempting a surreptitious fix on the rush hour platform and then admitting defeat and dumping the whole thing in the bin outside Cafe Nero with a dramatic flourish.
It's EXACTLY like this. Only without the Hollywood star.
Or the palm tree. Come to think of it, it's nothing like this.
My destination tonight (via Fat Face at Waterloo station, to buy a hideously expensive replacement) is the Sebright Arms in... erm... a really difficult part of London to get to from Waterloo station. We're off to see a band called Syd Arthur who I've been told about by tonight's gig buddy, a fine fellow by the name of Tim who I've mentioned once or twice hereabouts. His entire trip from Hull to tonight's show is being paid for by me in exchange for the enormous header you had to scroll past to find anything to read. I'll leave it up to you to decide who got ripped off in that deal.
Suitably belted up I meet up with Tim and the lovely Karin at Waterloo and we begin our journey into the depths of the unknown. Now, I don't know about you, but I'm a bit suspicious of that orange line that suddenly appeared on the Tube map a few years ago. It turned what was previously "
Here be monsters"
into "
Just about doable if you don't mind changing 3 times
" - and it's such a trip that we make to Hoxton this evening.
I was under the impression that Hoxton was Hipster Central, but coming out of the Fube* station there are none to be seen. In fact there's nobody at all to be seen as we head towards where the venue is supposed to be, only a racist electrical shop and eventually a council estate.
(*that's a fake tube station, by the way - it claims to be a tube station and has the proper sign and all but it's quite clearly a railway station, with arches and all that railway jazz.)
It's not as if the pub itself looks any more inviting from the outside- the only clue to its contents being the word "Arms" in its name. I suppose it could be a munitions depot, which would more befit its status as square, flat-roofed box with blacked out windows and military grade shutters. Once inside, we slip past all the hipsters (so that's where they were, drinking real ale and wearing giant headphones round their necks) and downstairs into the actual gig venue- which is, to be honest, a cellar. With the standard Victorian ceiling height. Not recommended for holding a bouncy castle party, but great for concealing a secret Austrian family.
It's rather like the Peel in Kingston, pre "facelift"- dank and dirty, raw and gritty. Oh, and dark, crucially- you can't say it's lacking in atmosphere. It's not long before some guys arrive on the stage- drums, saxophone and a not-electric-electric-double bass- accompanied by a lady with a guitar.
"
Hello,
" she says. "
We're called Rae and we're from Bristol. Apart from me, I'm from all over...
"
I don't have much time to ponder the physics of such a phenomenon before she starts singing and it becomes unimportant. Leonie Evans is an immediate focal point for the band, with her sometimes breathy, sometimes playful, sometimes downright dirty vocals layering over what can only be described as jazz.
No, wait, come back! It's not like Jazz FM. Or even like Miles Davis, despite Tim's insistence that it is. But then he uses the word "vinyls", so what does he know? No, it's a kind of alternative, very hip sort of Jazz. Maybe like Amy Winehouse would have ended up if she met Nigel Godrich instead of Mark Ronson. There are even Flamenco tinges, made all the more obvious when Leonie starts scat-singing in Spanish on the only track from their debut album they play this evening,
"Leda"
. It's absolutely mesmerising, as are her cupped-hand megaphone impressions somewhere in the middle.
And let's not pretend this is a solo act either, the band have a phenomenal bass player in the shape of Leon Boydon (and a phenomenal double bass in the shape of, um, a small double bass with a pickup). As well as providing some very impressive playing throughout (and I have Grade 7 Double Bass with Merit, so I know), he sets the funky foundations for closing number "Sublime Motion" and takes metaphorical centre stage for a number called "Leon's Metal Android", something I think we can all enjoy even if we weren't there. There's also a drummer called Dan, but unfortunately he's completely obscured by Leonie from where I'm standing. He sounds great though...
Along the way there are tracks called "Song for Friends" and "Magnum Pie" (working titles abound this evening) and then there's a song about Leonie's mum, the main riff of which she gets us to sing over and over with varying degrees of success. I'm trying out some new earplugs so I make it to the end, completely unaware that most people stopped singing ages ago. The lyrics tell a slightly sad and sentimental tale which Karin suspects is the reason for distracting us with the singalong- perhaps Leonie's not too keen on drawing attention to anything more fragile beneath the cool and sassy exterior.
Meanwhile Lorenzo on saxophone harmonises wonderfully with the vocal lines, making a wonderful case for re-appraising sax as a valid musical contribution in this post-Kenny G era. In summary, Rae are excellent. I will definitely be looking out for the new album, but if it's not called "Leon's Metal Android" I'll want my money back.
In the break I make a quick dash for the bar, but return to find that the hipsters have taken over the joint (and my spot) in their lumberjack shirts, non-ironic pornstar moustaches and skinny jeans with belts which work. I therefore end up with a much worse view of...
Syd Arthur
... Which is a shame, although I do immediately spot singer and guitarist Liam Magill's "Hatfield and the North" T-shirt (apparently home-made) which reminds me of the comparisons to the Canterbury sound which have been generating a buzz around this band for the last year or so. Personally, I don't hear it- there's nothing here which sounds like Caravan, or even Hatfield. They are, however, from Canterbury (as am I), which makes me instantly like them for that reason alone.
Who knew Prog T-shirts, Pyschedelic cardigans and
Windy Miller hats went so well together?
This evening's opener "
Ode to the Summer
" is the Syd Arthur sound all over- fluid, psych-y guitars jangle over a summery melody while multi-instrumentalist Raven Bush (Kate's nephew) adds some fantastic mandolin. It certainly does what it says on the tin, and evokes summer evenings as much as is possible in a dank hole under a boarded-up garage.
In fact everything tonight follows a similar sort of blueprint- bluesy rock with some slightly folky overtones courtesy of Raven's violin or mandolin playing. Oh, and there's the small matter of choruses that have you humming them for days without remembering quite where they came from.
So, why have they hit the radar of "those who must make everything into Prog"? Well, if all of the above make them sound like a fairly ordinary proposition, there's one small factor we've not taken into account- their crazy penchant for odd and shifting time signatures. Counting along gives me nearly as much of a headache as
Gavin Harrison and 05Ric
- alternate sections of 5/4 and god knows what in "Edge of the Earth" for one thing.
Syd Arthur - never knowingly under-haired.
It's this that causes Tim to proclaim after the gig that it's like seeing King Crimson in 1972. I assume it's that, anyway, since he's given up beer for lent. And actually Tim is not one to try to shoehorn everything good into the big P bucket, so I'm inclined to give him the benefit of the doubt.
Unfortunately, however much I've enjoyed the album prior to the gig and however much I am enjoying it right now as I type, I reach only one conclusion during the gig. As I stand, listening to the band whilst staring at the back of someone's ironically retro patterned sweater several millimetres in front of my nose, I can't help but feel I'm too old for this shit.
I bet Roger Murtaugh wouldn't put up with these conditions.
Yes, down the front at a tiny club gig was where it was at in the early 2000's, in fact I used to actively participate in pogoing and even the odd spot of light moshing when the occasion demanded it. Unfortunately tonight, after 45 minutes of being forced by other people's shoulders to stand up straight and not breathe too heavily, I'm done in. I look down at Karin who is literally two feet tall, and sense she's feeling the same, so we decide to make a break for the bar at the back from where we can see... oh, even less. And what's more, it's the only thoroughfare to and from the loo, making it the worst possible place to stand anyway.
With a shrug, we head upstairs to the pub where we sit nursing a drink between us and experiencing the rest of the gig by means of vibrations through the floor which suggest we're right above the drum kit. It's actually quite interesting, you still get a sense of the crazy time signatures but the only melody is provided by the cheesy dance tunes playing on the pub jukebox. It goes together surprisingly well, actually.
Anyway, fear not, Syd Arthur seem to be going places based on the sell-out crowd and energetic performance tonight, so I suspect I'll have another chance to see them this year, hopefully in a venue where personal space is an option and I don't wake up with a dislocated spine in the morning.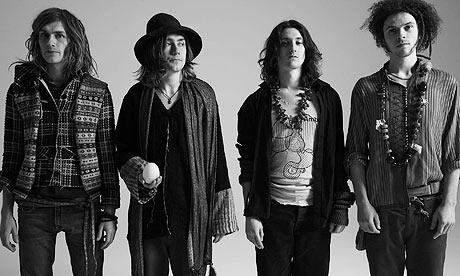 Oh, now I see where the Prog connection came from...
Once the gig is over and everyone starts coming back upstairs, I head down to find Tim, who's rooted to the spot with an odd mixture of confusion and afterglow on his face. "I'm just going to say hello to a few people," he says, and I agree to see him upstairs in a few minutes. When I come back down half an hour later, he's deep in chat with Leonie from Rae and Raven from Syd Arthur. I'm not entirely sure whether he decides to tell Leonie about his theory that she was separated at birth from Victoria Coren but he does tell me afterwards what a tit he feels for telling her she sounds like Kate Bush when Kate's nephew is standing right there. Still, it could be worse, he could have told her all about his "vinyls".
The trip home is pretty much the same as the trip there, only backwards. Although my old belt doesn't fix itself, more's the pity.
Oooh, look it's the Shard. Or is it the Gherkin? Or the Spaniel?
As we get off the train, we come across a drunk man on the footbridge with his foot stuck in a Waitrose carrier bag, hopping around and desperately trying to kick it off. I'd like to think it's a metaphor for my struggle this evening to shake off the shackles of encroaching middle age.
But it isn't. It's just funny.